Littmann ® Classic II S.E. Stethoscope
Featuring a two-sided chest piece, the Littmann Classic II S.E. Stethoscope offers high acoustic sensitivity. A tunable diaphragm on one side augments the traditional bell function of the opposite side. Available colors: Black, Burgundy, Royal ...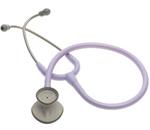 Littmann ® Lightweight II SE Stethoscope
A general purpose stethoscope that provides reliable acoustics for basic blood-pressure and limited physical assessment. Available colors: Burgundy ,Lilac ,Caribbean Blue ,Ceil Blue ,Sea Foam Green.