Dice Surgical is the oldest name in Home Health Care in Lycoming County doing business for over 100 years. We have become the area's leading retailer of mobility and disability equipment, incontinence, home health aides, diabetic supplies and shoes, including both rental and retail programs and built a reputation for superior customer service by following a simple formula: provide quality products at an affordable price with exceptional customer service. We know that people all over America face mobility and accessibility challenges inside their own homes and throughout their community. That is why we strongly believe that everyone should have access to the tools and equipment that can allow them to enjoy an independent lifestyle. Our focus is on value and looking for ways that we can streamline the manufacturing and installation process in order to cut costs without compromising quality. It is a simple, straightforward business model that relies on the tried and tested fact that providing good products at affordable prices will inevitably produce success.
If you are finding it increasingly difficult to navigate your home or business, don't settle for limited mobility or risk slipping and falling. Dice Surgical is your answer for all of your home health needs. We carry a wide selection of products that can help you overcome obstacles and reduce the hazards in every room of your home and if we don't have it we can get if for you, usually overnight.
Browse our site to learn more about our stair lifts, vertical platform lifts, walk-in tubs, lift chairs, mobility scooters and other products that are manufactured in the United States and covered by the nation's best warranty. You can also call and speak with a friendly and knowledgeable Dice Surgical expert who can answer all your questions and help match you up with the right product to fit both your mobility and budgetary needs.
Giving Back
As part of Dice Surgical's commitment to giving back and being a positive force in our community, you will find Dice Surgical sponsoring various community events throughout the region. Look for us at the Community Arts Center, the University of Scranton Disability Conference, The Annual St. John Neumann Regional Academy Gala and Auction, The Strike Out for Cancer, The Relay for Life and so much more.
As Dice Surgical CEO Philip Marrie attests, "Successful companies have the responsibility to give back to the communities that have made them successful."
Dice Surgical Stair Lifts, Vertical Lifts, Power Wheel Chairs & Lifts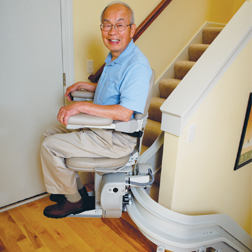 Dice Surgical is the recognized leader in stair lifts, vertical lifts, and wheelchair lifts in Lycoming, Clinton, Sullivan, Tioga, Union, Snyder, Columbia, Montour and all of North Central Pennsylvania. Americans looking for lift solutions have come to rely on our quality, reliability, support, service, and price. Our professional staff has the knowledge and expertise to help guide you through the entire process of determining which stair lift, vertical lift, or wheelchair lift is best suited for your needs. You can certainly pay more for your lift, but we can confidently state you cannot buy a better lift at any price. See for yourself why we're the top selling stair lift manufacturer in all of North Central Eastern Pennsylvania - call us today for a quote!